CONTACT US TOTE WINNERS FIND A LEAGUE GROUND
Welcome to Wollaston Cricket Club's website. Wollaston Cricket Club is CLUBMARK accredited and competes on Saturdays in the Northamptonshire Cricket League. Our thriving Youth Section supports teams at Under Nine, Under Eleven, Under Thirteen and Under Fifteen.
If you would like to subscribe to the free Wollaston CC Texting Service and receive news of Club events, results, and match cancellations etc, please email your mobile number to wollaston.cricket@googlemail.com
You can unsubscribe at any time
OLD NORTHAMPTONIANS PILE UP THE RUNS AGAINST FIRST ELEVEN
Old Northamptonians 283 for 6 in 52 overs Wollaston 138 all out in 43.5 overs lost 4 points
scorecard results & table all Wollaston 1st Xl results
SECOND ELEVEN STRUGGLE FOR RUNS AT IRCHESTER
Wollaston 2nds 122 all out in 47.1 overs Irchester 124 for 6 in 30 overs lost 6 points
scorecard results & table all Wollaston 2nd Xl results
THIRD ELEVEN LOSE AT HOME TO BRIXWORTH 3rds
Wollaston 145 for 9 in 45 overs Brixworth 149 for 3 in 36.4 overs lost 3 points
scorecard results & table all Wollaston 3rd Xl results


OUR OVERSEAS PLAYER FOR 2015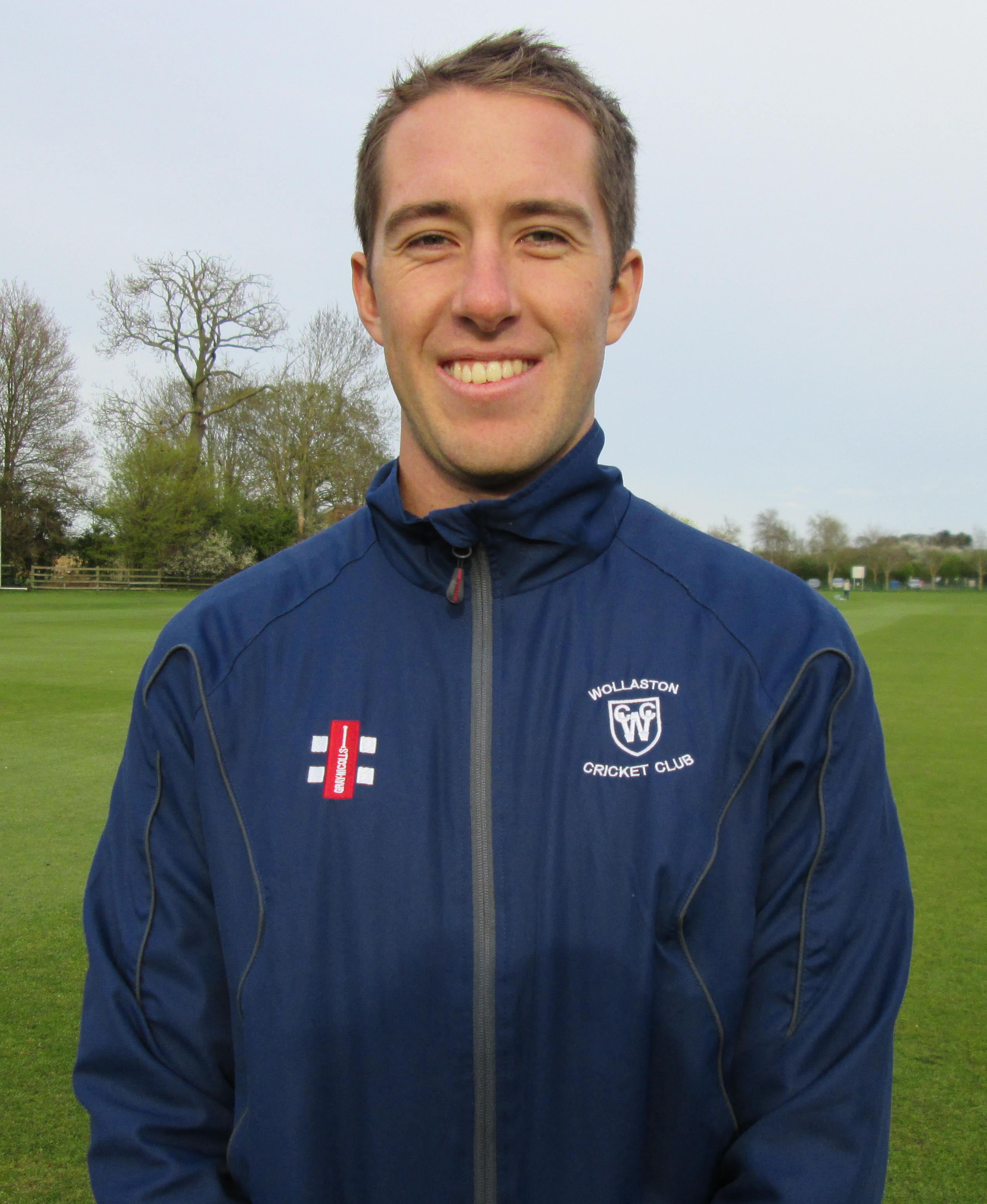 We are pleased to welcome Nicholas Mosey, an opening bat from Adelaide.
Nick joined us for our preseason warm up games and had an ideal start - scoring a half century at Wollaston against the strong Vauxhall Mallards from Bedfordshire.
We are sure Nick will enjoy his stay in the village and will emulate Jameson Coutts and Steve Musgrave and become an integrated Wollastonian before too long.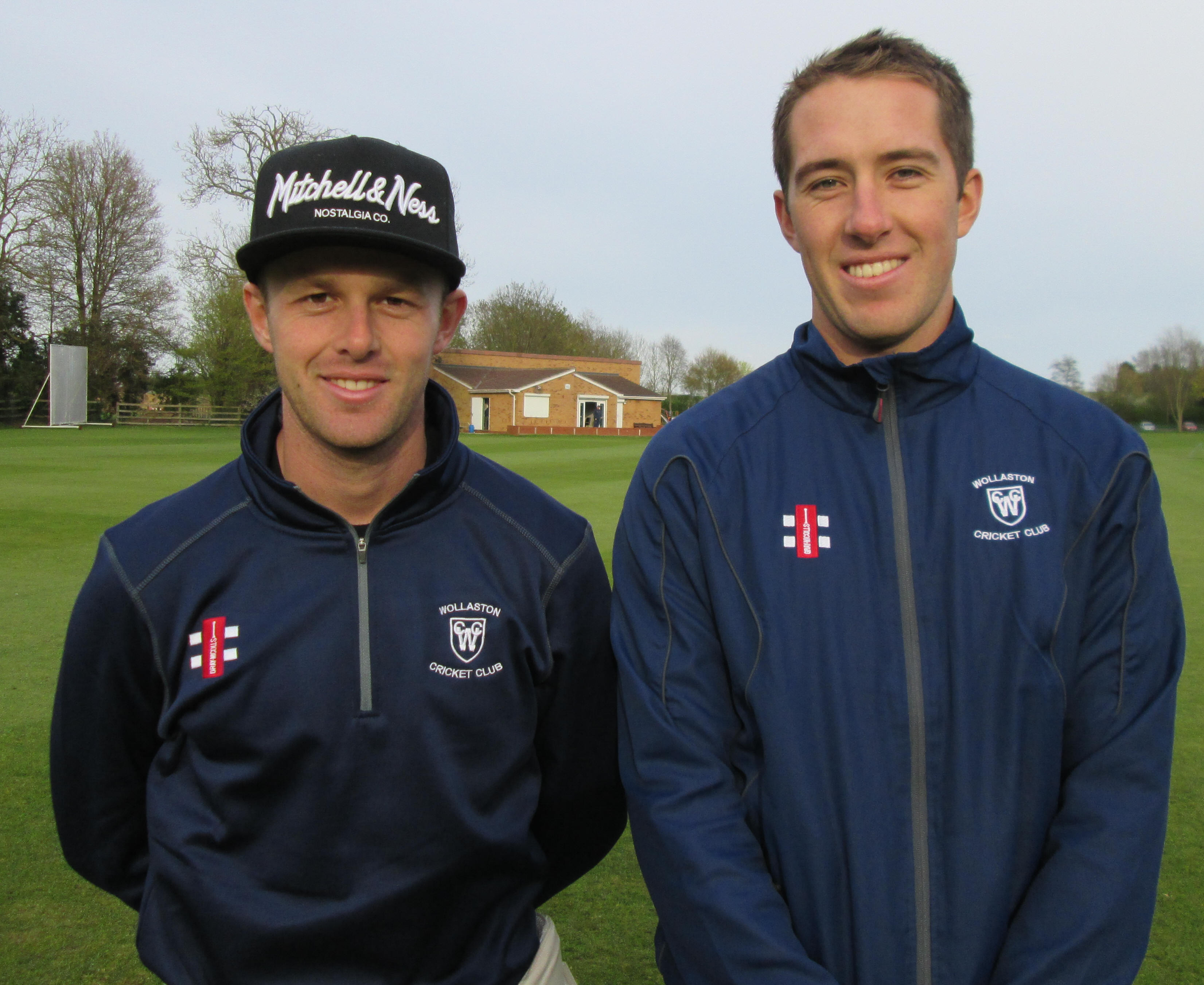 JJ and Nick take time off from a vigorous training session before the preseason friendly against Wellingborough.

GEDDINGTON & DISTRICT MIDWEEK LEAGUE FIXTURES
First game v Barton Seagrave - Away - Wednesday May 13th 6.30pm All GDMWL fixtures


EARLY LEAGUE FIXTURES 2015
First Eleven

Second Eleven

Third Eleven

May 2nd

O.Ns

12.00
H

Irchester

A
1pm

Brixworth 3rd H

1.30
May 9th

Finedon

12.00
A

Old

H
1pm

Heyford 2nd

A
1.30
May 16th

Geddington

12.00
H

Wellingborough T 2nd

A
1pm

Kettering 3rd

H
1.30
May 23rd

Rushton

12.00
H

Oundle 2nd

A
1pm

Abington

A
1.30
May 30th

Oundle

12.00
A

Brixworth 2nd

H
1pm

No Game

June 6th

Brixworth

12.00
H

S&L Corby

A
1pm

O.W 2nds

H
1.30
ALL WOLLASTON LEAGUE FIXTURES 2015

Place your order on line through the

GRAY NICHOLLS

Home Page Now by clicking on
Club Shop
!
Please note delivery charges are either £3.00 or £7.00
Orders over £100 are free delivered

Wollaston Cricket Club, formed in 1870 and situated in the heart of the East Midlands, is a CLUBMARK accredited village club playing on Saturdays in the Northamptonshire Cricket League.
The First Eleven competes in the Premier Division with the Second Eleven in Division Three. In their second season in the NCL the Third Eleven finished runners-up in Division Thirteen and gained promotion and now compete in Division Ten.
The Club also plays friendly matches on Sundays and has a thriving Youth Section with teams at Under Nine, Under Eleven, Under Thirteen and Under Fifteen.
Junior County representative games are also played at Wollaston where the facilities, both on and off the field, are of the highest quality.
On our website you will find information on most facets of the Club including up to date player profiles and photographs going back to 1892, with a complete in-depth review of our title winning 2007 season. Read the captains' reports and check out the statistics and Club records going back to 1957 when Wollaston entered the Northants County League.
The HISTORY, ABOUT US and THE VILLAGE pages give a comprehensive background of the Club and its surroundings.
Wollaston Cricket Club and CLUBMARK

wollaston.play-cricket.com
__________________________________________________________________________________