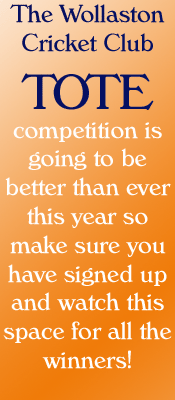 CONTACT US TOTE WINNERS FIND A LEAGUE GROUND
Welcome to Wollaston Cricket Club's website. Wollaston Cricket Club is CLUBMARK accredited and competes on Saturdays in the Northamptonshire Cricket League. Our thriving Youth Section supports teams at Under Nine, Under Eleven, Under Thirteen and Under Fifteen.
If you would like to subscribe to the free Wollaston CC Texting Service and receive news of Club events, results, and match cancellations etc, please email your mobile number to wollaston.cricket@googlemail.com
You can unsubscribe at any time
FIRST, SECOND and THIRD TEAM RESULTS CLICK
READ A REVIEW OF THE 2015 SEASON
With results, averages, league tables and new records.
WOLLASTON LEAGUE FIXTURES 2016
ALL NCL FIXTURES 2016
CHANGES TO THE PLAYING FORMAT FOR 2016
The First Eleven (premier division) will play 50 overs per side instead of 55 and the new format will encompass leg-side wides, "free hits" for no-balls and fielding restricting circles. The maximum overs available to each bowler will be 15 compared to the 17 previously. There will also be changes to the points system.
The Seconds (division three) have unchanged playing conditions.
The Thirds (division ten) will also play a reduced game. Next season will see 40 overs per innings (previously 45) with the maximum bowling allocation of 10 overs per bowler (13). The starting time has also been brought forward to 1pm.