CONTACT US TOTE WINNERS FIND A LEAGUE GROUND
Welcome to Wollaston Cricket Club's website. Wollaston Cricket Club is CLUBMARK accredited and competes on Saturdays in the Northamptonshire Cricket League. Our thriving Youth Section supports teams at Under Nine, Under Eleven, Under Thirteen and Under Fifteen.
If you would like to subscribe to the free Wollaston CC Texting Service and receive news of Club events, results, and match cancellations etc, please email your mobile number to wollaston.cricket@googlemail.com
You can unsubscribe at any time
OUR YOUNG GROUND STAFF SHOW HOW IT SHOULD BE DONE!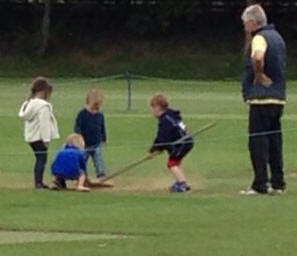 FIRST ELEVEN BEATEN BY 15 RUNS AT BURTON
Burton Latimer 191 all out in 53.4 overs Wollaston 176 all out in 42 in overs Lost 8 points
Jimmy Hart 36 David Shelford 35 Chris Perry 3 for 38 off 15 overs Liam Bates 2 for 20 Steve Musgrave 2 for 38
Scorecard Premier Div results and table
SECOND ELEVEN HANG ON AT HOME TO OAKLEY
Gt Oakley 263 for 7 in 47 overs Wollaston 208 for 8 in 53 overs Drew 9 points
John Pike 51 Andy Kowal 47 not out Andy Luck 26 Andrew Kowal 2 for 54 off 12 overs
Scorecard Div 3 results and table

2014 CRICKET DINNER and PRESENTATION NIGHT
SATURDAY OCTOBER 11th
SCOTT BADER COMMONWEALTH CENTRE
GET YOUR TICKETS NOW !
JUNIOR RESULTS and FIXTURES click

WHAT ELSE IS ON? LOTS! click here
WOLLASTON CLUB KIT
We are pleased to announce that we have a new kit supplier and the club web shop is now open.
Kit can be purchased through the website.
Please note that there is a delivery charge of £3.99 per order for orders consisting of 1 or 2 items, and for orders consisting of more than 2 items the delivery charge is £7.00 per order.
Orders of £100 and over are free delivered.
Go to the Club Shop, choose your kit: CLUB SHOP

Wollaston Cricket Club, formed in 1870 and situated in the heart of the East Midlands, is a CLUBMARK accredited village club playing on Saturdays in the Northamptonshire Cricket League.
The First Eleven competes in the Premier Division with the Second Eleven in Division Three. In their second season in the NCL the Third Eleven finished runners-up in Division Thirteen and gained promotion.
The Club also plays friendly matches on Sundays and has a thriving Youth Section with teams at Under Nine, Under Eleven, Under Thirteen and Under Fifteen.
Junior County representative games are also played at Wollaston where the facilities, both on and off the field, are of the highest quality.
On our website you will find information on most facets of the Club including up to date player profiles and photographs going back to 1892, with a complete in-depth review of our title winning 2007 season. Read the captains' reports and check out the statistics and Club records going back to 1957 when Wollaston entered the Northants County League.
The HISTORY, ABOUT US and THE VILLAGE pages give a comprehensive background of the Club and its surroundings.
Wollaston Cricket Club and CLUBMARK

__________________________________________________________________________________